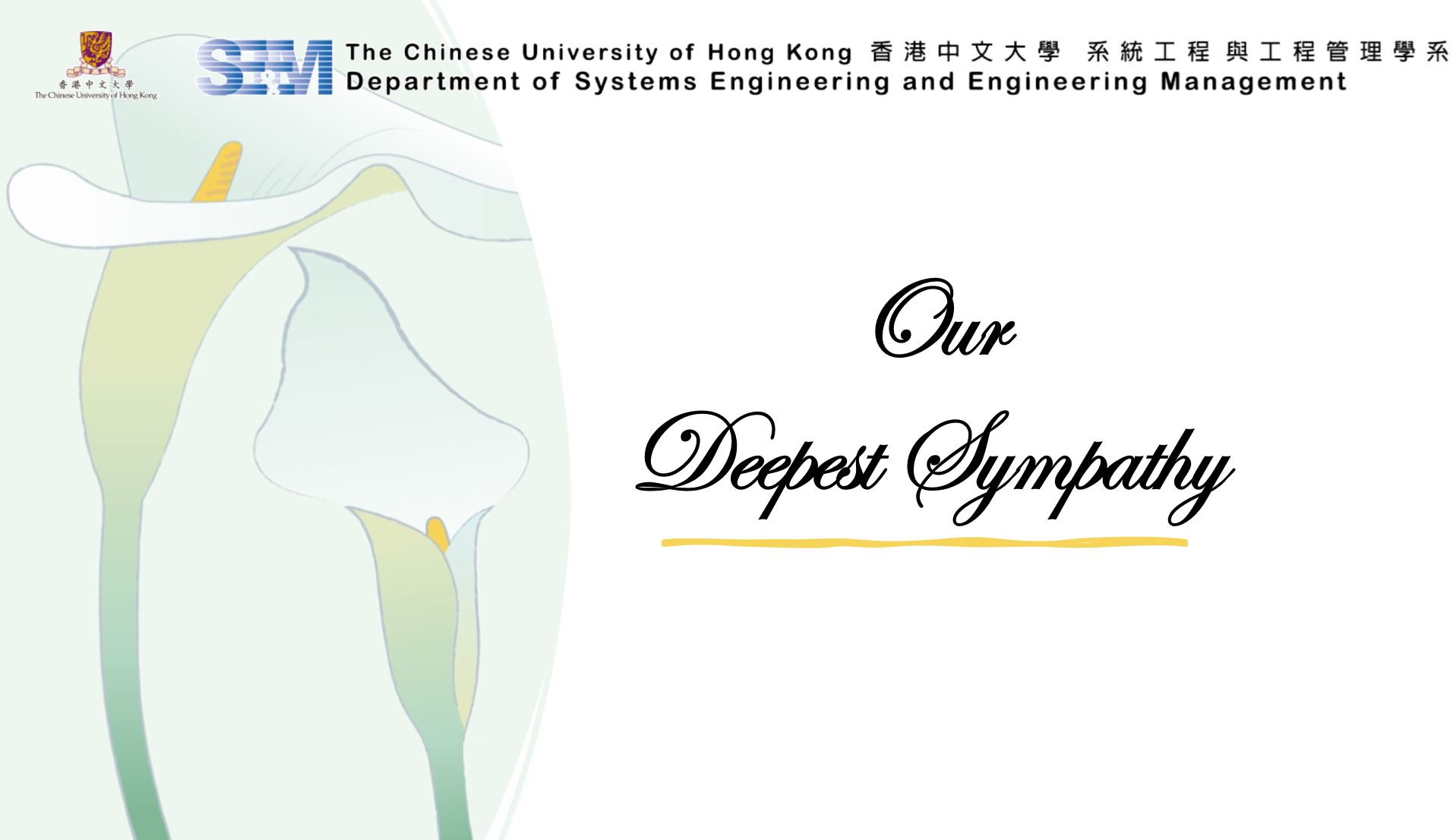 Dear Mrs. Li and family:
We are deeply shocked and saddened to learn about the passing of Professor Duan Li, a dear colleague and friend.  Professor Li has made tremendous contributions to our Department as a faculty member and also as past Department Chairman.  He will be sorely missed.  Please accept our sincerest condolences.
With deep sympathy,
Members of the SEEM Department
18 November 2020
何鴻燊醫療拓展基金會敬悼李端教授
李端教授家屬禮鑒
乍聞李教授離世,無限驚訝、不勝悼念。
深知家人哀慟逾恆,尚祈節哀順變,保重身體為要。
我們十分榮幸,邀得李教授出任香港中文大學禤永明系統工程與工程管理學講座教授多年,校內校外同時建樹,成績斐然,尤其是在金融科技方面,創辦學系、作育英才、桃李滿門,貢獻良多;尤以領導進行澳門大學成立醫學院的經濟可行性研究,由於澳門的數據資料有限,李教授特別親往北京尋找,又協助澳大校長領隊前往美國實地考察,令人永記不忘。
能與李教授在多方面的SEEM研究及平台硏發工作一起同行,我們至感榮幸,他在中文大學、城市大學以至澳門大學的成就,我們無以為報,謹此再三致謝。
禤永明 禤駿遠 何鴻燊醫療拓展基金會敬上
二零二零年十一月廿日
Professor Duan Li is deeply remembered
Dear Professor Duan Li's Memorial Service Organizing Committee,
It was with a great sense of loss when we heard of the death of Professor Duan Li, a highly respected scholar and a prominent alumnus of our Shanghai Jiao Tong University.
Professor Li was outstanding in fields including but not limited to, optimal control, dynamic programming, financial engineering, management science, and operations research. Professor Li devoted his life to conducting cutting-edge research and contributed numerous groundbreaking works. His pioneering work on the embedding method for dynamic mean-variance portfolio optimization made outstanding contributions to the development of operations research, financial engineering, and management science.
His departure results in the loss of a pillar of our country, an exemplary scholar of the academy, also a prominent alumnus of Shanghai Jiao Tong University. We, all the staff and students in our department, express our deep condolences and our deep sympathy for his family.
Sincerely,
Bo YANG
Professor, Department Head
Department of Automation
Shanghai Jiao Tong University
沉痛哀悼李端教授-香港中文大学(深圳)数据科学学院
李端教授家属及李端教授治丧委员会,
惊闻李教授不幸因病去世,不胜悲痛!
自2013年起,李教授获邀加入香港中文大学(深圳)理工学院学术人员招聘委员会,对理工学院的建立和建设贡献尤多。特别是从2014年底开始,他协助创办了金融工程理学硕士学位项目,并于2015至2018年间担任项目主任,使该项目成为深圳和香港两个校区合作建立的第一个研究生项目。李教授对项目的建立、运行、管理倾注了极大心血,为其此后的蓬勃发展奠定了坚实的基础。
李端教授一生治学严谨,建树良多,著述颇丰,桃李遍盛,为学界所敬仰。我们对他的逝世深表哀悼,并对李教授的家属表示最诚挚的慰问。
先生之风,山高水长。李端教授千古!
香港中文大学(深圳) 副校长罗智泉教授
香港中文大学(深圳) 协理副校长蔡小强教授
数据科学学院院长 戴建岗教授
金融工程项目共同主任 张树中教授
金融工程项目共同主任 陈南教授
数据科学学院 陈昕韫教授
香港中文大学(深圳) 数据科学学院全体教职人员
2020年11月24日